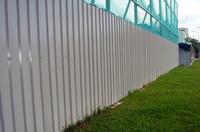 The timber hoarding normally used is made from plywood from FSC accredited sources. This can be supplied with a pre-applied protective undercoat, reducing the time required for painting the site hoarding once it is been erected.
The standard height of the hoarding is 2.4m but hoardings which are higher than this can be supplied and installed to the contractor's specification. This could include toppings such as barbed wire or 'dragon tail' effect toppings if a high level security is required.
As part of our hoarding service, we can supply and install gates for pedestrian and vehicular access. When the building project is complete,the site hoarding can be dismantled and removed ready for future use on another site.
Steel Hoarding Systems
If the hoarding is going to be in place for an exceptionally long time or where there is an intention to reuse the hoarding, steel hoarding is often the better option. To give flexibility and ease of movement around the site, Steel hoardings can be supplied on demountable posts or, alternatively, fitted to fixed steel or timber posts. The hoarding posts and panels for steel hoarding can be pre-finished in the colour specified by the contractor, and with a polyester powder coating applied on top of a galvanised finish